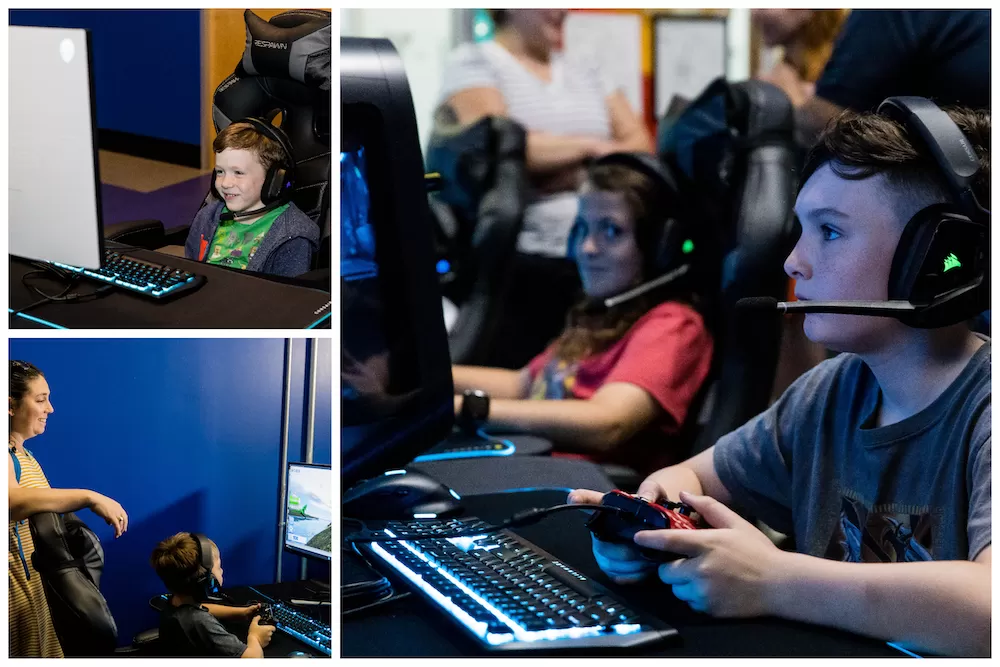 The Egaming Center is a member value add-on called an Egaming All Access Pass, available for members at any YMCA of Greater San Antonio branch. Non-Members will also have the opportunity to Pay to Play.

The Egaming Center at our D.R. Semmes YMCA  is currently open Monday-Friday 3pm to 9pm.
Non-Y Members cost is $10 All Day pass.
Y members can add on to their membership for $20 to have access all month.
Come meet like minded gamers and develop your skills today Types of play include: OPEN or"Drop in" at our Y Egaming center to play with other Y gamers at regularly scheduled times. Team play is where teams are formed to compete in area leagues, and League play allows youth to compete against other Ys in the area.
In 2023 we will start to open on weekends mainly for Birthday Parties & Tournaments, as well as start to offer STEM camps for coding, graphic design, and more!
• Online & In-Person Gaming Leagues
• Off Season Community Events
• Y Member Discounts
• All Skill Levels Welcomed
• Multiple Age Divisions
• Inclusive to Everyone
PS4 = Playstation 4 | PS5 = Playstation 5 
XBX = Xbox X | XBSX = Xbox Series X 
PC = Personal Computer
Cross Platform = The game is accessible to connect gamers regardless of whether they are on PC, PS or XB.
The Egaming program is led by Chris Saenz, YMCA's Esports Director and CEO of TexasGaming Empire. He is passionate about pioneering innovative esports events that build life skills, increase educational opportunities, and give hands-on experiences in the esports industry. He has focused on building local level sports on the College and High School level, giving kids hands-on education& experiences through internships, and connecting them to Colleges for higher education and scholarship opportunities.